«Biola» started producing NATURAL Morse
The company's drinks portfolio had a completely new category of products – natural juice. Bottling fruit drinks under the brand name «Juices Summer» took place at the production site №1 in Dnepropetrovsk. The product is packed in convenient transparent 1 l bottle.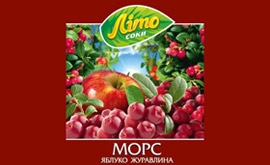 The history of this drink goes several centuries back. According to one of the versions of gaining its name – the name comes from the Romanian mursa «juice», which originates from the Latin word mulsa «mead». Classic juice is made of water, fruit juice or fruits, with sugar or honey. It is excellent thirst quencher in the summer, when it can be drunk cold or with ice and a good warmer in the winter, when best practice is to serve it slightly warmed. Morse restocks vitamins in the body, relieves fatigue and improves mood. In Ukrainians food ration it traditionally takes pride of place.
One of the most significant value of Morse made by «Biola» is that it is a healthy product. It contains natural cranberry juice and aronia (chokeberry), classified as «superfruits» (along with the Tibetan goji berries and Chinese lychee plum), which includes a large number of antioxidants. Regular consumption of mentioned vitamins strengthens the immune system, prolongs youth and helps to maintain good physical shape. It is also important that our juice is made without using any artificial colors, preservatives and flavorings.