«Baikal»: CLASSICS IN CONTEMPORARY PERFORMANCE
On «Biola`s» production site the first batch of bottled drink «Baikal» series «Breeze» has been held.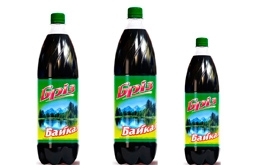 This product can rightfully be called «classic with a modern edge». Its special formula was developed in the Soviet Union in 1973. Specialists from brewing, nonalcoholic and wine industries created an original drink made out from licorice root, Siberian ginseng and tutsan, and gave him the proud title of «Baikal» in honor of located in Siberia, the deepest lake on the planet with a clear water. Over a relatively short period of time brand «Baikal» has gained world-wide fame, such a big fame that even representatives of «Coca-Cola» seriously thought about purchasing it.
Today, based on traditional recipes, not only have technologists of «Biola» group in conjunction with the world's leading manufacturer and supplier of natural ingredients – Doehler (Germany) recreated the legendary drink but also to supplemented it with a new and useful properties. It consists of high-quality natural herbal extracts. This is a low-caloried drink that is suitable to everyone who is keeping fit.
It is also important that the «Baikal» from the «Breeze» series is affordable for most consumers, available in a convenient 2 l bottle. So there would be enough of unique delicious drink for everyone at the table, whether it`ll be a cheerful children's holiday, youth party or spiritual family picnic.