Biola congratulated Dnipro with the Day of the city
In September the company "Biola" took part in greeting the residents and guests of the Dnipro with the Day of the city.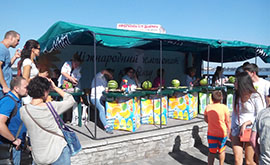 "Biola" became the title sponsor of the International Championship of carving, which took place on the city's waterfront. Enjoying the bright flavors of juices Biola, city residents watched contests of culinary masters in the art of the art cutting of vegetables and fruits.
Anyone could test their strength in this exciting activity that requires patience, concentration, a good eye and a steady hand. As well as all the festival visitors were able to try the original news TM "Biola" – cocktails «Almond» and «Rosemary».
On the gastronomic festival were set seven records of Ukraine with the partnership of TM "Biola." This is the largest number of records set in Ukraine in one day.