"Biola" supported "color" marathon
"Biola" supported charity marathon "DniproColorRun"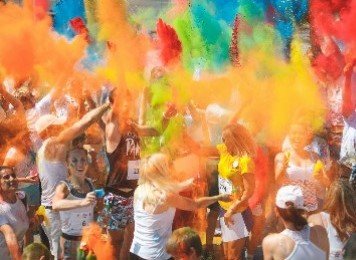 "Biola" became a partner of the «DniproColorRun» Marathon, organized by the charitable foundation "Giving joy" on September, 10 in Dnipro. Sport race, which was attended by hundreds of citizens, held at the Dnipro waterfront. By making a donation, athletes took part in the first mass workout, and then in the race. Start of the race gave a bright burst of color (participants showered each other with dry paints "holy"). A total length of the "color" race, which competed as athletes, children with disorders of the musculoskeletal system, amounted to 2 km. Throughout distance marathon participants maintained their physical shape, thanks to the mineral water Znamenovskaya TM "Biola."
The aim of the charity race «DniproColorRun» was to raise funds for a trip of 30 children with special needs at motivating lecture by renowned speaker Nick Vuychich in Kiev.